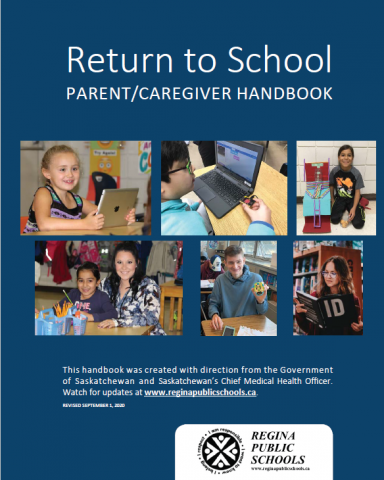 September 1, 2020 -- Regina Public Schools families can now read most details about returning to school in one document. The Return to School Parent/Caregiver Handbook includes all the information school families may need to know about school in September and beyond.
The handbook includes:
- Safety precaution details and what the schools and learning will be like in the coming school year
- Transportation
- Curriculum, instruction and assessment for Kindergarten to Grade 12
- Support Services information for students with intensive needs
- Program information for the 2020-21 school year
- Facilities disinfecting and cleaning information
This handbook details school division-wide information. Parents and caregivers are reminded to always contact their schools and high schools directly for specific information about those schools. This handbook is subject to change, pending direction from the Government of Saskatchewan and local and provincial health authorities.
The Return to School Parent/Caregiver Handbook is available here.
For a return-to-school safety plan infographic, follow this link.
Follow this link for more specific details about the Regina Public Schools Fall 2020 School Reopening Plan.